Dd wanted her redcurrant picking efforts on the blog - so here we are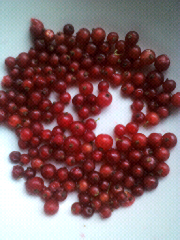 Redcurrant Muffins
Makes 12 muffins - we weren't too sure about redcurrant muffins but they were duly declared delicious!
60g unsalted butter
175g plain white flour
2 tsp baking powder
1/2 tsp salt
120g caster sugar
1 large egg
120ml milk
125g fresh redcurrants
Preheat oven to 180°C. Melt butter
Sift flour, baking powder, salt and all the sugar apart from 2 tbsp - save this to sprinkle over top before cooking
Beat egg and whisk in milk and melted butter. Add to flour mixture; stir then fold in redcurrants
Fill muffin cases, filling each slightly more than half full. Sprinkle reserved sugar over batter in each cup.
Bake in a preheated oven for 20-25 minutes, until golden brown and a wooden skewer or knife inserted in the centre comes out clean.